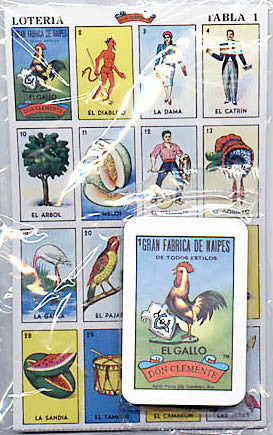 Don Clemente
Loteria 10-board Bag Set

Share this.
This bag set version of the classic Don Clemente loteria from Mexico contains the best and most famous artwork of its genre, such as "La Sirena" and "El Borracho." This "Mexican Bingo" bag set contains:
Ten playing boards
Deck of 54 cards
Played like bingo, except with images instead of numbers and letters. A dealer flips the cards one at a time and players match the images to their boards. First to get four in a row, calls out, "¡Loteria!" and wins the game. [You can also play blackout, four corners, etc., anyway you like.]
Many people also use the cards and boards to make art and other handicrafts, and as a Spanish learning tool, which is also why this Don Clemente version is the most sought after loteria in the world.
Don Clemente (Pasatiempos Gallo), tradition since 1887.
---
Share this Product
---
More from this collection